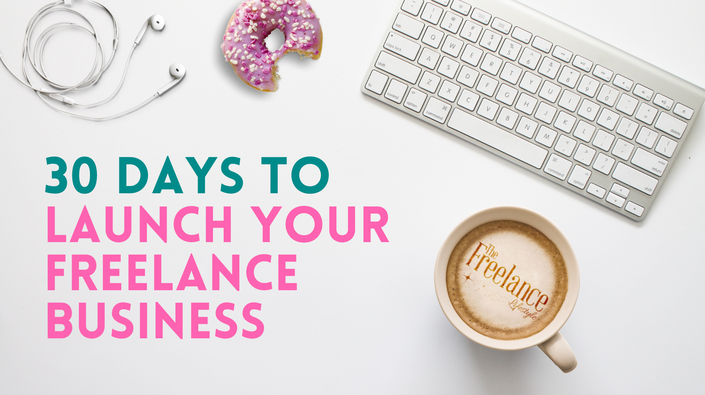 The 30 Days to Launch Your Freelance Business course
Overcome 'The Fear' and go freelance in 30 days
Want to be a freelance success? You don't have to go it alone!
The thought of going freelance is exciting and a little bit terrifying, right?
Does the below sound familiar?

You want to figure out exactly why, when and how to ditch the 9 to 5.
You're ready to start working (and living) your way.
You want a career that works around your family and lifestyle, not the other way round
You want to earn more money, doing what YOU love
You've been dreaming and Pinterest boarding about a business idea for years. Now you want to make it a reality


I hear you. And I know what it's like. You desperately want to pursue your passion and go it alone, but the whole process can seem overwhelming and scary.

But here's the thing - you're not alone.
I'm here to take you through those first 30 days. This course will give you the tools and knowledge to set yourself up and be ready to start your freelancing journey. From registering your business to finding your perfect clients. Each task is easily achieved in an hour or less (most of them are less than 30 minutes).
Oh, and you'll also get access to The Freelance Lifestylers Facebook group, which is fully of lovely, supportive and welcoming freelancers who have taken the steps you're about to take. Think of it like a little cheering squad!
Scroll down to find out more about how the e-course works, get a peek at the syllabus, and a collection of testimonials from the e-course alumni.

So, what are you waiting for? Make your first steps to self-employment today with The Freelance Lifestyle
Your Instructor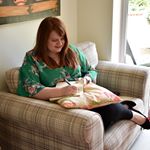 Hello! I'm Emma Cossey, and I run The Freelance Lifestyle. I've been freelance since 2009, working with both big and small companies on an assortment of social media, copywriting, blogging, training and consulting projects. I started The Freelance Lifestyle when I spotted a gap in the market for creating content that makes going, and being, freelance as accessible and straightforward as possible. Practical tips, not dull business lingo. I wanted to create a hub of resources for freelancers to delve into. What started as a blog and podcast, grew into a Facebook community, a coaching service and now The Freelance Business Lounge.
Oh, and I know things don't always go smoothly. I juggle freelancing with parenting, plus I have ADHD and an introverted nature, so everything in this membership is designed to be quick, easy and not requiring huge bundles of confidence or people energy.
Course Curriculum
Week 1: Setting up
Available in days
days after you enroll
Week 2: Admin and MONEY!
Available in days
days after you enroll
Frequently Asked Questions
What is the 30 Day Freelance Lifestyle E-course?
The 30 Day Freelance Lifestyle E-course is the kick in the pants you need to really get the ball rolling as a fully fledged freelance. It's for anyone who wants to go freelance, or has started taking the first baby steps but wants guidance on not only starting their own business, but starting a SUCCESSFUL business.
How does the 30 Day Freelance Lifestyle E-course work?
The 30 Day Freelance Lifestyle E-course is based online on Fedora, which means you can dip in and out of it in your own time. It's a mix of small and medium tasks so there's something for every kind of day - whether you have a couple of hours or 30 minutes. Each daily task will take you one step closer to your freelance goal, and includes a short podcast version for those of you who (like me) prefer to learn through audio. I like to keep things short, sweet and to the point, so each podcast will be just a couple of minutes long - perfect for listening to on the commute to work or while you're waiting for the kettle to boil for your morning cuppa.
What does the E-course cover?
How to write a freelancing business plan How to find your freelancing niche How to find your target market - and how to win their business How to organise your freelance finances How to draw up a contract What tools to use to make the most of your time Getting motivated - and what to do when you miss office life
When does the course start and finish?
The course starts now and never ends! It is a completely self-paced online course - you decide when you start and when you finish.
How long do I have access to the course?
How does lifetime access sound? After purchase, you have unlimited access to this course for as long as you like - across any and all devices you own.
Testimonials
"."

"I would recommend The Freelance Lifestyle eCourse to anyone wanting to set up their own freelance business. The course covers everything from setting up, registering self employed to how to pitch ideas and setting up your rates." Rachel Gully
"I genuinely loved this ecourse, and would recommend it to all freelancers, whether you've been working for yourself for a while, are a complete newbie or are still thinking about making the leap. There are brilliant resources, links and discussions about pretty much every freelancing topic under the sun - from structuring your working day to creating and growing your own little brand. To be honest, Emma is a bit of a freelancing superhero: full of creative ideas, awesome suggestions and can answer any question you throw at her (no matter how random!) ... she is fab. The course has increased my confidence and provided me with some really valuable practical advice about running my own little freelance business. I found it very inspiring!" Kathryn Carr
"As a new freelancer I thought the Freelance Lifestyle e-course was really really useful - just what I needed to get myself organised and work out my priorities. Emma's friendly and helpful approach guided us through each of the tasks and gave us pointers when we had questions. It was also great to interact with other freelancers on the Facebook group to share knowledge and tips." Nina Lenton

"The Freelance Lifestyle course is packed with incredibly useful content but also practical tasks to help too. It is worth every penny and then some if you're thinking of starting up or refreshing yourself to step it up a level!" Kerri Walker, PR and Marketing Consultant